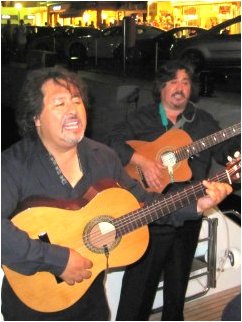 The first evening dining out under the stars,
Surprising us later with Spanish guitars,
Northern Soul dancing, all with bare feet,
More vodka, more gin, "I quite like it neat!!"
Elvis joining us on board, playing the crowd,
Laughing, singing, my how we got loud,
Sunglasses, handbags, watches galore,
We girls loved our shopping that's for sure,

A trip on True Blue, sun and sea spray,
Sotogrande canals, what a wonderful day,
Puerto Banus, now here we come,
Norman at the helm, he had so much fun,
Such a small space, it amazes us still,
How impressed we were Nick, such manoeuvering skill!!!
Back home in Poole at the Sailors Rest,
From a weekend to remember "one of the best".

What more can we say but a big Thank you for the time on the Gorgeous TRUE BLUE
Julie and Norman